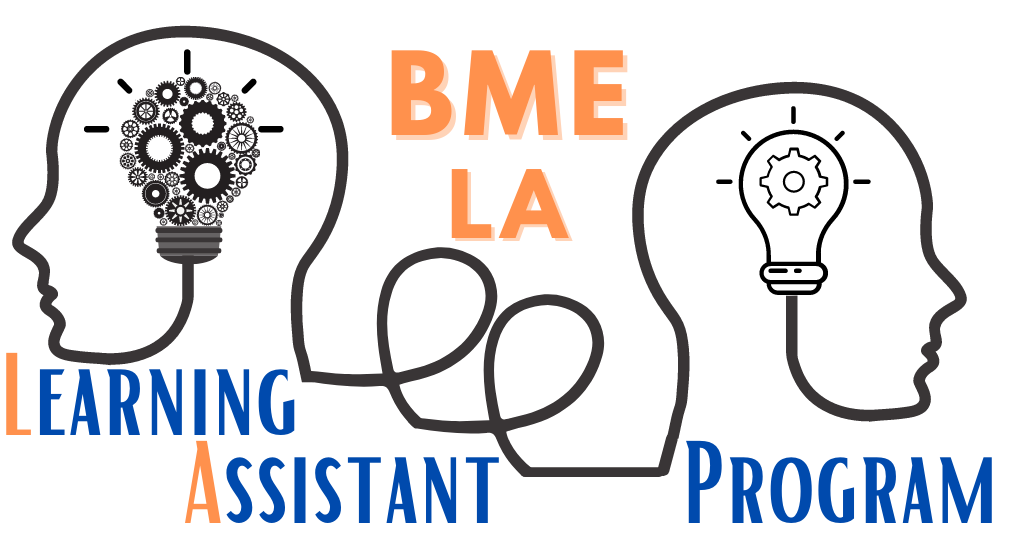 Welcome to the Learning Assistant Program in the J. Crayton Pruitt Family Department of Biomedical Engineering, the BME LA Program. Our goal is to offer our students a well-rounded education that allows them to stand out and compete in the job market. Hence, BME faculty always strive to provide the highest quality instruction and seize every opportunity to explore novel, research-based techniques to improve our students' academic performance as well as their educational experience and sense of belonging. Starting in Fall 2021, the BME department will implement the BME LA program, which relies on near-peer support to help our students develop themselves as better learners and become tomorrow's Biomedical Engineers.
Program Summary
The Learning Assistants (LA) model is a collaborative learning strategy that aims to train undergraduate frontrunners who succeeded in a course with a strong showing to assist the next cohort of students in learning the course content. First developed at the University of Colorado Boulder and funded by the NSF, the model then expanded nationally as the Learning Assistant Alliance and was implemented in the form of department-specific LA programs in various institutions [1].
The BME Learning Assistant (BME-LA) program is an opportunity for undergraduate students to expand their personal-development portfolios as they implement multidisciplinary instructional strategies to help peers navigate a foundational BME course. The LA program also plays an instrumental role in increasing students' learning gains and retention and facilitates the transformation of traditional classrooms into collaborative, interactive, and inclusive learning environments (Figure 1). LAs are selected based on high academic standing and to reflect the diverse gender, race, and ethnic representation we have in our classrooms. Unlike TAs, LAs do not participate in the grading process. LAs also don't have access to grades and thus complement the teaching process as they form a safe, no-threat bridge between the students and the instructor, providing feedback in real-time throughout the semester. LAs must enroll in the 1-credit Special Topics pedagogy course, BME4931 Educational Methods for BME Learning Assistants (LAs).

Program Goals
The program's goal is to develop LAs by coaching a cohort of undergraduate students in collaborative learning techniques. A specialized pedagogy course will teach the LAs how to improve other students' academic performance and self-efficacy using peer-led learning strategies customized for foundational BME courses and labs. The program benefits all classroom stakeholders, the students, the LAs, and the teaching team (instructor and STSs) and aims to:
Allow LAs to develop new learning techniques and apply them to themselves and their peers, consequently strengthening their mastery of the course and their leadership skills.
Encourage and facilitate the implementation of active learning strategies in the classroom.
Improve student engagement by applying anti-racism and inclusivity practices in classic lecture-based settings and/or in group-based activities.
Increase student motivation and retention.
Implement principles of collaborative pedagogy.
Reduce achievement gaps and improve the overall quality of the education offered by the department.
Offer the opportunity to engage in engineering education research.Reference

[1] Learning assistance alliance:
https://learningassistantalliance.org
[2] UC Boulder resources website:
https://sites.google.com/view/laa-resources/home
Team Members:
May Mansy, Ph.D.
Instructional Assistant Professor
Kelly Stalter
Undergraduate Academic Advisor