UF College of Health & Human Performance
This summer, five graduate students in the University of Florida Department of Applied Physiology and Kinesiology (APK), join 10 graduate students in biomedical engineering, neuroscience and clinical psychology to learn about the applications and fundamentals of artificial intelligence (AI), specifically around machine learning.
---
"With machine learning, we can monitor progression and might be able to predict the likelihood of a fall within a specific timeframe, or make a determination on if they have Parkinson's disease or another movement disorder," said Sidney Baudendistel, a Ph.D. candidate studying biomechanics, movement disorders, gait and aging, who is participating in the workshop series.
---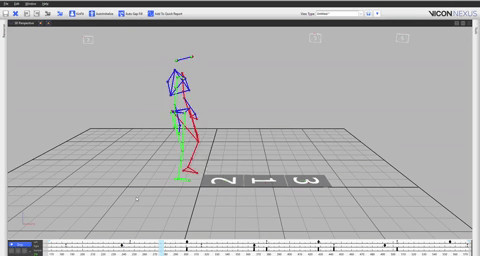 >> Baudendistel and researchers in the Applied Neuromechanics Lab focus on the interactions between musculoskeletal biomechanics and sensorimotor control, particularly between locomotion and balance. Shown above is an animation provided by the lab of a subject being measured while walking.
Baudendistel said the workshops are helping her understand how data her lab provides is being used in large, multi-site studies.
"We're contributing every piece of gait data available – UF and the Fixel Institute (for Neurological Diseases) has one of the largest collections of gait data on patients with Parkinson's disease," said Baudendistel. "That's 4,000-5,000 Parkinson's disease patients measuring their speed, length of step and variability of stepping pattern."
In total, she said that UF's large data set, combined with research conducted at other universities and research centers, can help future Parkinson's disease patients by monitoring the progression of the disease or even making a determination of the disease subtypes.
The three-week workshop series is funded by an institutional research training grant (T32) managed by David Vaillancourt, Ph.D., chair and professor in APK, and Dawn Bowers, Ph.D., professor in the Department of Clinical and Health Psychology in the College of Public Health & Health Professions.
The grant provides funding for experts to teach graduate students about various topics applicable to their research and field. For the summer workshop series, the organizers tapped Ruogu Fang, Ph.D., assistant professor in the UF J. Crayton Pruitt Family Department of Biomedical Engineering. Dr. Fang's research focuses on big data analytics, brain informatics and medical imaging analysis.
"Our funding is from the National Institute for Neurological Disorders and Stroke at the National Institutes of Health," said Vaillancourt. "They have a unique funding mechanism that emphasizes data analytics and statistical rigor as fundamental to the training experience.
"Part of our initiative in the T32 is to provide advanced machine learning to the basic and applied neuroscientists.  We sought Dr. Fang for this important role, as she is a known expert at UF and internationally for machine learning and AI."
The first week focused on machine learning, specifically defining machine learning and discussing its potential. Dr. Fang led the students through eight video modules, about 80-minutes total, covering the concepts and differences between AI, machine learning and deep learning. Students also attended a 90-minute synchronous session hosted on Zoom, received hands-on practice and completed assignments.
The second week focuses on supervised learning and building a model and the third and final week will focus on evaluating a machine learning model.
The workshops are just the beginning of how AI will shape the future of research. Additional training workshops might involve students bringing their research to the table where they can collaborate together.
Baudendistel said the point of AI is figuring out ways to make things easier on yourself by using tools like machine learning.
"We're using neuroimaging as an example in the workshop, but others are using computers to count cells which can be a huge timesaver and more efficient than counting cells manually," said Baudendistel.
Learn more about the University of Florida AI initiative at ai.ufl.edu.