BME continues its steady growth by welcoming FOUR new assistant professors.
Ivana Parker, Ph.D., is a Fulbright Scholar who recently completed a year-long study at the University of Cape Town in South Africa. Her project assesses the risk of a commonly used TB vaccine, BCG, on HIV susceptibility in infants using proteomics and systems biology approaches.
Parker completed a two-year postdoctoral fellowship as an American Society for Microbiology Postdoctoral Fellow at the Centers for Disease Control within the Division of HIV/AIDS Prevention. At the CDC, she evaluated the impact of antiretroviral therapy (ART) on diagnostic assay approaches and identified trends to optimize assay design. Parker received her Ph.D. in bioengineering from Georgia Tech in 2015. Her thesis investigated the effects of pro-atherogenic shear stress, HIV proteins, and antiretroviral therapies on the vasculature using in vivo and in vitro models. During her time at Georgia Tech, she received the NSF graduate research fellowship and was selected to be a trainee on an NIH Cell and Tissue Engineering Training Grant. She also received a Summer Whitaker Grant to develop artificial aortic valves in Cape Town, South Africa. She earned her B.S. in mechanical engineering from the University of Florida in 2009. Parker will join the department beginning Spring 2021.
Meghan Ferrall-Fairbanks, Ph.D., is currently a Postdoctoral Fellow in the Department of Integrated Mathematical Oncology Moffitt Cancer Center and Research Institute, where her research focuses on using mathematical modeling to study single-cell heterogeneity and clonal hematopoiesis in cancer.
Ferrall-Fairbanks received her B.S. in mechanical engineering with a biomechanics minor at the University of Florida in 2012. She earned her Ph.D. in biomedical engineering in 2017 from the joint Georgia Tech and Emory program under the guidance of Dr. Manu O. Platt. In her graduate dissertation work, Ferrall-Fairbanks focused on integrating wet-lab experimental and computational methods to tease apart complex enzyme-on-enzyme interactions in proteolytic networks up-regulated in tissue destructive diseases. In August 2017, she began her postdoctoral studies in Mathematical Oncology at Moffitt Cancer Center with Dr. Philipp M. Altrock. Ferrall-Fairbanks will join the department beginning Spring 2021.
Brittany Taylor, Ph.D., is currently a Provost's Postdoctoral Fellow in the McKay Orthopaedic Surgery Research Laboratory, Perelman School of Medicine at the University of Pennsylvania, where her research focuses on the development of a drug release delivery system as a therapeutic for rotator cuff tendinopathy and investigating the role of collagen type V on tendon healing and homeostasis.
Taylor received her B.S. in biomedical engineering from the University of Virginia in 2010 and her Ph.D. in biomedical engineering from Rutgers University in 2016. As a graduate student, she was an NIH T32 Biotechnology Training Fellow and NSF Graduate Stem Fellow in K-12 Education (GK-12). She is an author on numerous peer-reviewed journal and patent review articles, three book chapters, and a co-inventor on two patents. Taylor is also a Burroughs Wellcome Fund Postdoctoral Enrichment Program Fellow and the PI of a grant to investigate extracellular vesicles as a therapeutic and diagnostic for diseased and injured musculoskeletal tissues. Taylor has been recognized for her scientific achievements throughout her career. She has received awards such as the Rising Star on the list of Top 100 Inspiring Black Scientists in America, Associate Fellow to the Ernest E. Just Postgraduate program, MIT Rising Star in Biomedical Science Award, Orthopaedic Research Society Tendon Section Trainee Award, Mid-Atlantic PREP/IMSD Research Symposium (MARPS) Distinguished Alumni Award, and the Biomedical Engineering Society Cellular and Molecular Bioengineering (BMES-CMBE) Student Award. Taylor will join the department in Winter 2021 and her research will focus on tailored cell-free strategies to complement and improve the native musculoskeletal tissue regenerative and reparative processes.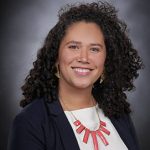 Ana Maria Porras, Ph.D., is currently a Presidential Postdoctoral Fellow at Meinig School of Biomedical Engineering at Cornell University, where her research focuses on developing in vivo and in vitro models of disease to study host-microbe interactions in the context of the human gut microbiome and global health.
Porras' research interests encompass a wide variety of topics including, biomaterials, cardiovascular disease, the microbiome and infectious disease. Originally from Colombia, Porras arrived in the U.S. 14 years ago to pursue a B.S. in biomedical engineering at the University of Texas at Austin. Immediately after, she completed a Masters and Ph.D. at the University of Wisconsin-Madison, where she was an American Heart Association Predoctoral Fellow. At UW, she also obtained a Delta Certificate in Teaching and Learning with an emphasis on inclusive pedagogy. That passion for diversity and inclusion drives most of her work; most recently, she co-founded the Latinx in BME community and was selected as one of 125 AAAS IF/THEN Ambassadors for girls and women in STEM. Porras is also a science artist and bilingual communicator. Every #MicrobeMonday, she teaches microbiology on social media using crocheted microbes designed by herself. Porras will join the department beginning Summer 2021.