We'd like to thank everyone who participated in yet another fantastically-creepy Halloween Contest! You can find the event pictures here. All the competing labs put a lot of effort into coming up with very creative/funny/spooky lab decoration and costume ideas . The entries were judged by a non-partial panel of 5 judges. Please see below for a list of awards given out in this year's 6 categories:
Most Creative/Clever Decorations and Costumes Award: Dr. Kyle Allen's lab!

Most Safety Conscience Award: Dr. Stephen Arce's lab
Most Environment Friendly Award: Dr. Kevin Otto's lab!
Least Spooky/Most Kid Friendly Award: Dr. Carlos Rinaldi's lab!
Best Complete Halloween Experience Award: Dr. Christine E. Schmidt's lab! 
Best Skull Theme Award: Dr. Cherie Stabler's lab!
Great job and Congratulations to all the participating labs!! It was so much fun!!

Allen Lab

Arce Undergraduate Design Lab

Otto Lab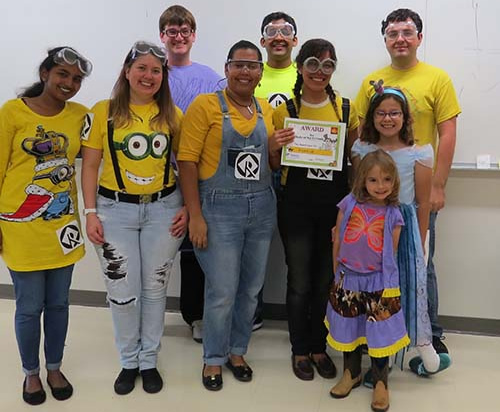 Rinaldi Lab!

Schmidt Lab

Stabler Lab